GuardMagic VB4
universal vehicle GPS/ GSM-GPRS module with driver identification function, fuel monitoring function, temperature monitoring function and logical inputs. Module is intended for remote supervision of mobile objects movement (vehicle, special machinery etc.) and vehicle status.
Module supports up to
THREE
regular fuel tanks and up to Four cargo tanks (fuel level sensors with digital communication bus).
GuardMagic VB
4 is an universal base GPS/ GSM-GPRS vehicle module. (GuardMagic VB4 modules support universal communication protocol that's allow to have different GuardMagic modules with different functionality in one system).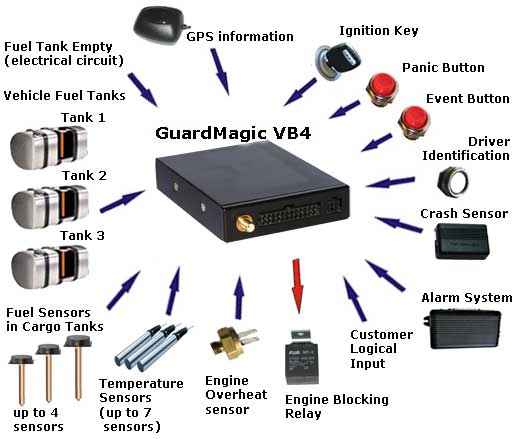 Main power supply (DC power 12/24 V);
Reserve external battery (12V);
GPS antenna-receiver (from complete set);
Ignition circuit;
Up to THREE fuel level sensors in regular tanks with digital industrial communication bus (EIA-485);
Up to Four fuel level sensors in additional or cargo tanks with digital industrial communication bus (EIA-485);
Up to SEVEN digital temperature sensors;
Driver identification reader;
"PANIC" (SOS) Button;
"EVENT" Button;
Car (Vehicle) alarm system;
"Engine Overheat" circuit (overheat sensor);
Crash sensor (one or three levels);
Fuel Tank empty circuit;
Customer logical sensor;
Engine start blocking relay.
GuardMagic VB4
provides to immediate transmitting or storing in internal non-volatile memory and posterior transmitting the following information:
GPS track of transport (geographical coordinates);
GPS parameters of movement (speed, time);
Fuel level in regular fuel tanks (Fuel history up to THREE tanks)*;
Fuel level in additional or cargo tanks (Fuel history up to FOUR tanks)*;
Data from temperature or humidity sensors (temperature history up to SEVEN sensors);
Active driver identification number (Driver ID)*;
Panic signal;
Engine overheat*;
Road accident*;
Car Alarm activation*;
Attempt to theft;
Engine status;
Fuel Tank Empty;
Status of external logical circuits (logical input, "Event Button").